Hours & Directions
Business Hours
Alpha Analytical has built our hours of operation with you in mind to provide you with the most convenient times to complete your business transactions.  Although we have standard business hours, we understand there are times when you may require extended business hours in order to accommodate your projects.  In these special cases, Alpha Analytical can make arrangements to coordinate early or extended sample drop offs or pick-ups, including Saturdays.  These special arrangements can be made by contacting your Project Manager.
Main Labs
Alpha Analytical's two main laboratory facilities are located in Massachusetts. Our standard laboratory facility business hours are:
7:30 AM to 5:30 PM Monday through Friday for Project Management questions
7:30 AM to 7:30 PM Monday through Friday for sample container pickup and sample drop-off
Company Headquarters     
8 Walkup Drive
Westborough, MA 01581
508-898-9220
Directions
Woods Hole Division
320 Forbes Boulevard
Mansfield, MA 02048
508-822-9300
Directions  
Service Centers
Alpha Analytical has a network of customer service centers located from Maine to Pennsylvania. These service centers are staffed and serve as convenient locations for sample drop offs and container pick-ups.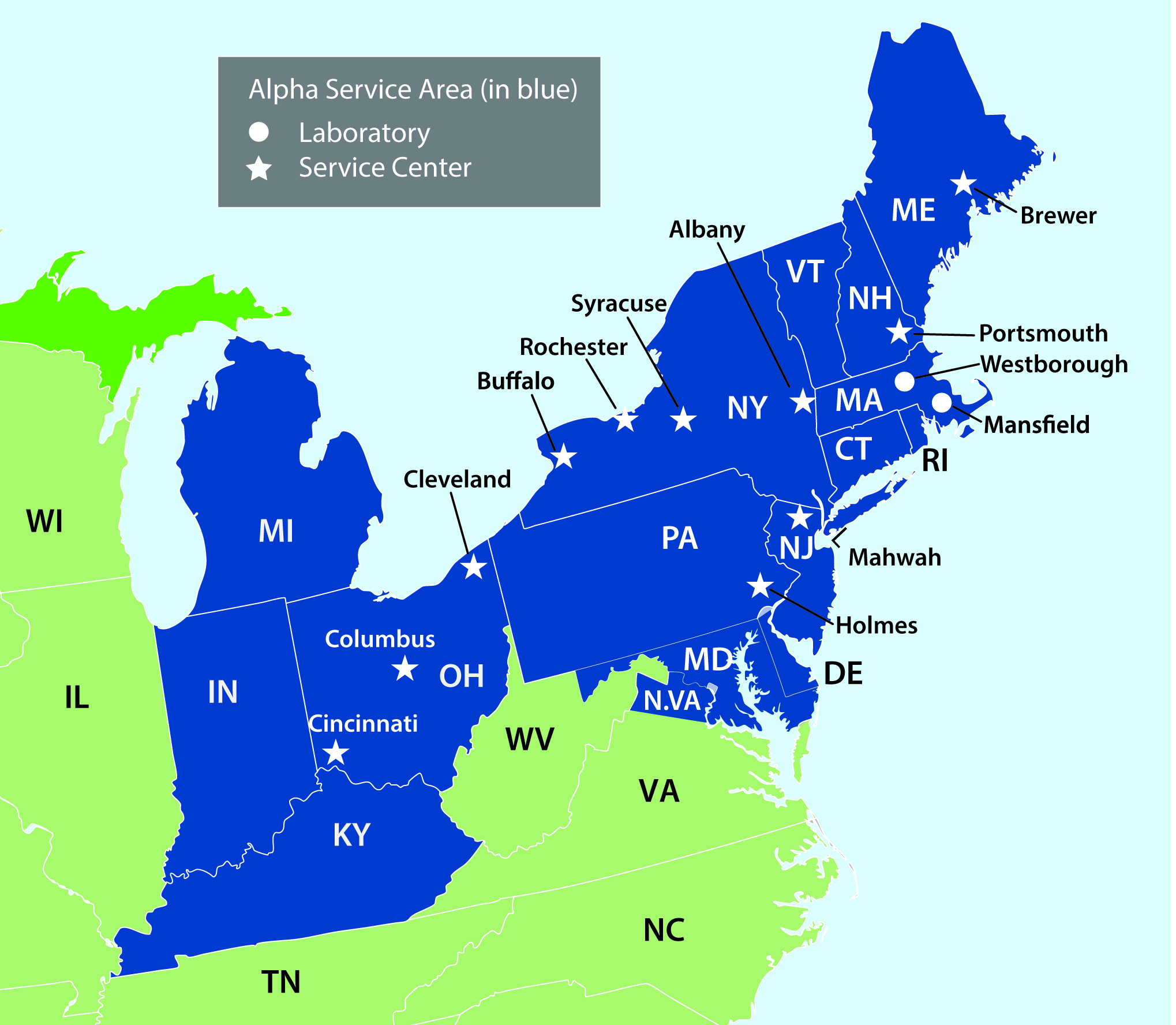 Service center business hours Monday through Friday are:
Brewer, ME: 8:30AM to 5:00PM
Portsmouth, NH: 8:00 AM to 5:00 PM
Mahwah, NJ:  8:00 AM to 6:00 PM
Albany, NY:  8:00 AM to 6:00 PM
Buffalo, NY:  8:00 AM to 5:00 PM
Rochester, NY: 8:00AM to 6:00 PM
Syracuse, NY: 8:00 AM to 5:00 PM
Holmes, PA: 8:30 AM to 5:00 PM
Mentor, OH: 24 hours/7 days per week 
New Jersey Service Center   
35 Whitney Road, Suite 5
Mahwah, NJ 07430
201-847-9100 
Directions
Albany, NY Service Center   
14 Walker Way, Suite 1
Albany, NY 12205 
518-869-0394
Directions
 
 
 
 
New Hampshire Service Center
222 International Drive, Suite 155
Portsmouth, NH 03801
603-436-5111 
Directions

Buffalo, NY Service Center
275 Cooper Avenue, Suite 105 
Tonawanda, NY 14150 
716-783-9291
Directions

 
 
 
 
Mid-Atlantic PA Service Center
1013 Ashland Ave
Folcroft, PA 19032
610-532-5742
Directions
Maine Service Center
72 Center Street, Suite 3
Brewer, ME 04412
207-624-0713
Directions
 
 
 
 
Syracuse, NY Service Center
5858 Molloy Road, Suite 148
Syracuse, NY 13211 


518-869-0394


Directions
Rochester, NY Service Center
Metro Park Business Center, Suite M-105
Rochester, NY  


518-869-0394

 
Directions
 
 
 
 

Cleveland, OH Service Center
7575 Tyler Blvd, Bldg C, Suite C35
Mentor, OH
(614) 357-3321
Directions

 
 
Administrative Offices
Alpha Analytical's administrative offices are located at:
145 Flanders Road
Westborough, MA 01581
508-898-9220